Independent, but with a major sound is what this artist is known for. To be honest this artist stands out among many other artists in the crowd. The way he moves, his uniqueness, his sound along with his marketing tactics can make this artist and label pretty intimidating if you are not confident in your own craft.
"Sometimes it gets frustrating because certain cities support each other such as ATL, NY and maybe a few others. Those artists have talent and are comfortable in their own skin and will work together, but it's not like that were I'm from. It's to the point to where others artist and label's are trying to compete throwing little jabs, sneak disses, sending their Intel in to get info out of me and not just in my city, but other areas too says JLC."
"That's why I just stay out the way and do me and come up with my own ideas and create my own lane. I don't have to go steal another artist idea, song, compete or mimic somebody else's brand. I have too many life experiences and many stories to tell then worry what others are doing."
It's a lot of character stealing also, but if you know people and how God works eventually it'll run out and they'll go steal someone else's idea or song then and keep repeating the process and soon after word will spread and then goes your career. So you basically let people dig a hole for themselves, says the rapper and CEO."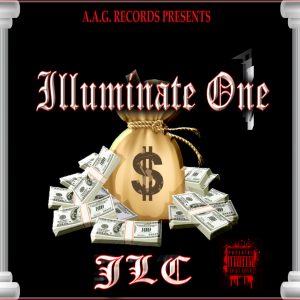 So about this new release dropping 2/18/2022, "Illuminate One" is one definitely for the books and it has definitely opened some ears and eyes from being leaked by certain sources to certain radio platforms. It portrays an artist being faced with decisions that
could change his or her life for the good, but at what cost or could there be a cost? Everyone has a free will to choose which side they will be on.
JLC mentioned "people ask what artist does he compare himself to and his response is no one." He stands alone in that category. JLC claims "he could be the next big rapper of all time and you suppose to believe in yourself like that just like many others do." Just from our observance we definitely would agree.
We think this new single is definitely the one, but we know JLC is no one hit wonder and is very capable of dropping hit after hit and meaning the one that will open more doors than usual and getting more fans and show bookings create a demand. JLC is not only and artist, but a jack of all trades from artist development to marketing and much more outside of music. Make sure you attend one of his shows to where he might drop some nuggets on how to get you music off the shelf and into people homes and phones!
Follow JLC on IG @jlcaagrecords
Website www.allaroundaag.com
Email @[email protected]