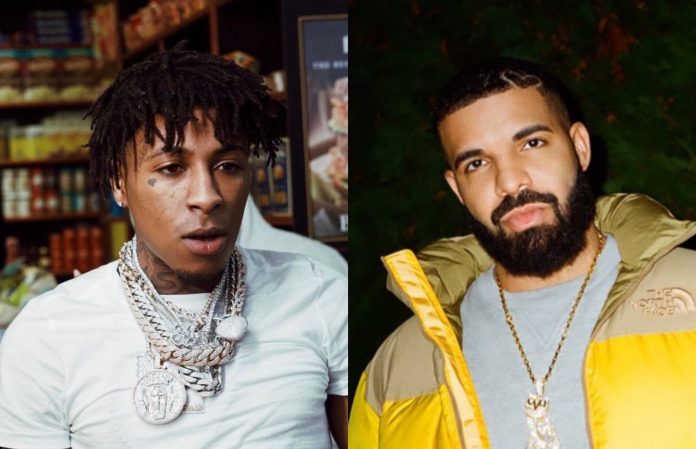 Even while on vacation, Drake's music is working tirelessly to maintain his status as the most-streamed artist of 2022. According to Chart Data, a reputable source for MRC Data compilations from Billboard, the "One Dance" rapper has firmly secured the top spot for most-streamed artists within the United States, boasting an impressive 1.4 billion streams. Not far behind is NBA YoungBoy, whose recent surge in popularity has earned him a noteworthy 1.3 billion streams.
What makes NBA YoungBoy's position surprising is that he has overtaken artists who were once considered unbeatable, like Taylor Swift, holding the third position with 1.2 billion streams, and The Weeknd, securing fourth place with 1.1 billion streams. The fifth spot is a tie between the late Juice WRLD and The Weeknd, both amassing 1.1 billion streams.
The rest of the top 10 includes Kanye West at sixth place with 840 million streams, Eminem at seventh with 710 million streams, Kodak Black at eighth with 660 million streams, and Rod Wave and Kodak Black again tying at ninth place. Controversial country singer Morgan Wallen rounds off the top 10 with 640 million streams.
It's worth noting that the March streaming update omits several prominent female rappers like Minaj and Cardi B, raising eyebrows among fans and experts. NBA YoungBoy's entry into the top 10 at such a high position marks a significant moment in the streaming landscape.
Meanwhile, Drake is poised to continue his chart dominance, carrying over his momentum from 2021 when he was crowned the most-streamed artist of that year. Chart Data reveals that at one point, one out of every 131 streams played belonged to a Drake song.
Drake's sixth studio album, "Certified Lover Boy," was released in September 2021, coinciding with his well-known rivalry with Kanye West. The album's debut was nothing short of impressive, amassing over 430 million audio streams in just three days after its release, outperforming Kanye's "Donda," which reached 423 million streams in eight days.
"Certified Lover Boy" even broke single-day records on Apple Music and Spotify, maintaining its top spot on the Billboard 200 chart for several weeks. Drake's era of success earned him the esteemed Billboard Artist of the Decade Award last year.
While currently vacationing in the Caribbean, Drake has yet to drop any hints about new music. However, with the year just getting started, fans can expect surprises from this prolific artist as he continues to shape the music industry in his own unique way.