At only 12 years old, Red Vegus is a rising star with a message of hope for everyone in his debut EP "St. Rose Tha Truth," released on all platforms in March.
Born in Las Vegas and surrounded by a true melting pot of entertainment styles and genres, Red Vegus was inspired by his father, producer Brian Moore, to sing and perform live.
"I've performed live a lot all around Vegas," Red Vegus said. "It's pretty good, I love it. I love that you can interact with the crowd. Listening to my father's albums made me want to do this too."
Red Vegus said he's working to spread positivity and help people block out negativity with his music.
The album "St. Rose Tha Truth," is a mixture of entertainment and serious messages from a young man that's seen a lot in about a dozen years of life.
Red Vegus said it was about three years ago he pressed his father to let him put down some tracks about the things he was going through in life. He started writing some of the songs when he was eight years old.
"Writing this album was like therapy for me," he said. "What I was going through at the time. Basically I didn't take my anger out in life but it just helped me control myself. I could put my emotions on the paper."
Red Vegus said audiences of all ages are gravitating his songs and their messages about the pressures people face in their daily lives and the struggle to stay positive through it all.
He said most of his classmates have gravitated toward the title track, a mid-tempo hip hop track named for the hospital where Vegus was born.
"They asked me if it was going to be any good, and they only liked one song," Red Vegus said, "They liked 'St. Rose' because they claimed it was a newer beat. I don't have a favorite song, it's like choosing your favorite child. But I've got one I listen to a lot called 'Redemption.' When I first came back with my dad, the first song I recorded with him was 'Redemption,' plus it had Eddie Fuse and DJ Boogaloo on it too."
Red Vegus also talked about the track "Strong."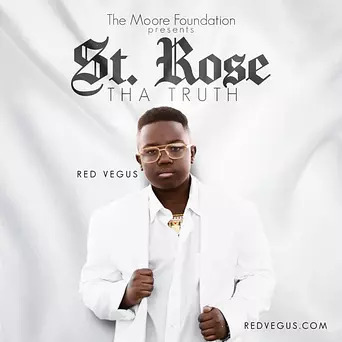 "'Strong' is about what I was going through," he said. "My parents were going through a custody case so I wrote about it. Something happened between my mom and my dad before that and he told me to write about it, so I wrote about everything and I wanted to name the song 'Strong' because I'm telling other kids that might be going through this. I want to tell them just to hold strong."
Other tracks on the EP show off Vegus' versatility. "God's Grace" is a hip-hop song that could find a home on Christian/Gospel radio. The spiritual lyrics talk about what it is like to be 12 in today's world.
With his sights on a Las Vegas residency, Red Vegus is already a showman and a force to take seriously. While he's well-known in Vegas, "St. Rose Tha Truth" demonstrates Red is in a class of his own. In fact he's looking forward to going on tour and heading for New York in July.
And he wants his fans to keep up with him on all platforms and social media.
Website: https://redvegus.com
Amazon Music: https://music.amazon.com/artists/B07V3L44FX/red-vegus
Apple Music: https://music.apple.com/us/artist/red-vegus/1472479658
Spotify: https://open.spotify.com/artist/5GQAwsVYQ0azfzoq7bnyqr
YouTube: https://www.youtube.com/channel/UCxdierp1p5_ROGjB_cLiv2A
Socials:
Facebook: https://www.facebook.com/RedVegus/
Instagram: https://www.instagram.com/theredvegus/